DeVotie Legacy Society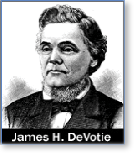 History
On January 3, 1842, Howard College (now Samford University) opened for the first time to nine students. Trustee James H. DeVotie had provided the land for this new campus. Passionate in his support of this new college, DeVotie became the voice of progressive leadership for Christian higher education in Alabama.
Purpose
The DeVotie Legacy Society memorializes Samford's indebtedness to this founding father for planting shade trees under which he knew he would never sit. Today, we are grateful to those who, similarly, are planting for the future through planned gifts in their estate plans.
Membership
As a member of the DeVotie Legacy Society, you set an example to others for what they could do and you will be appreciated in several ways:
Invitation to annual members only event
Invitations to other special events
GiftLegacy planning newsletter
Most importantly, knowing that you are making a difference for all future generations.
If you have already planned a legacy gift, please complete an
Estate Intention Form.
It will be an honor to recognize you as a part of the
DeVotie Legacy Society.
Ways to Make a Legacy Gift
Here are a few popular ways to make a legacy gift:
Bequest: A percentage of your estate, specific amount, specific asset, remainder after other bequests or as a contingency gift
Life income gift: A gift that returns income back to you and/or another for lief or a term of years
Beneficiary of retirement plan or other financial account: You can designate part or all for Samford's ultimate benefit
Life estate: Continue to live in your primary or vacation home but deed the remainder to Samford and recieve a current income tax deduction.
Investing in the Future
Legacy gifts are like acorns that, when planted, will one day bring nurturing shade to new generations of Samford students. Thank you for your foresight and generosity to Samford ...the world is better for it!