Contact Us
"Everyone leaves a legacy, whether it is intentional or not. Those who are more intentional about it usually leave a better legacy behind." — Paul J. Meyer, author, philanthropist
We want to help you be intentional in planning the legacy you desire to have. Discussing your charitable intentions with us may lead to a much better result than going it alone. Our discussions will be confidential and without obligation to you.
Samford University
800 Lakeshore Drive
Birmingham, AL 35229
Telephone: 205-726-2807or
877-782-5867 (toll free)
Fax: 205-726-4164
Our Staff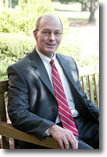 Stan Davis
Director of Gift and Estate Planning
Phone (205) 726-2807
Email
Bio
Randy Pittman
Vice President of University Relations
Phone (205) 726-2331
Email
Bio
Thank you for your interest in further information from Samford University. We will make every effort to respond to you in a timely manner. Your request will be treated with respect and confidentiality.
Enter Your Information